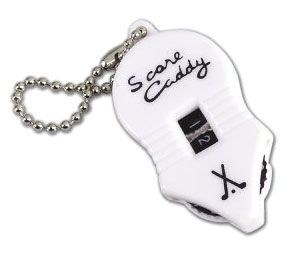 Charter Score Caddy Details
Easy to use
Clips to belt or bag
Charter Score Caddy Reviews
Thanks for taking a moment to learn about our "Verified" designations.
We employ verification processes to build credibility and promote product reviews.
Verified Buyer
An individual who has purchased the reviewed item from our company and submitted their review using a process that verifies purchase history. This designation ensures the actual buyer is reviewing the purchased item.
Verified Reviewer
An individual who has confirmed their email address using our validation process. This designation ensures that product reviewers are using their real email addresses.
Product Q & A
Does the Score Caddy track one or two scores? Is it a dial or push button and how easy is it to reset for every hole.
Monday, May 22, 2017 09:40 PM
Answer by a Discount Golf World Expert
Hello! The Score Caddy tracks one score up to 99 with a dial you move every shot. Thanks for your inquiry!
Tuesday, May 23, 2017 09:16 AM
How does is work?
Friday, May 25, 2012 01:11 PM
Answer by a Discount Golf World Expert
You move the score wheel with thumb or finger and the numbers advance in increments of one. Thank you for your inquiry to DGW
Friday, May 25, 2012 02:12 PM
Customers who bought Charter Score Caddy also bought

Charter Putter Caddy B.P.
Club And Tee Holder

Champ Zarma FLYTee™ 2 3/4" Colored Golf Tees
Durable Design, 6 Prong Head, Contoured Cup, Biodegradable, Top Performance For All Golfers

Charter Pro Slim Golf Tees 50 Pack 2 3/4"
A Must-Have For Golfers
The full manufacturer's warranty from Charter is only valid when the Charter Score Caddy is purchased from an Internet Authorized Dealer. We will match any Internet Authorized Dealer's best price on the Charter Score Caddy.
<![if !IE]> <![endif]>
Phone
Customer Service Hours
Mon-Fri: 8am-7pm CST
Saturday: 9am-5pm CST
Address
Discount Golf World
2828 Broadway St
Quincy, IL 62301
Email Sign Up!
Sign up for news and sale notices. Be the first to know!